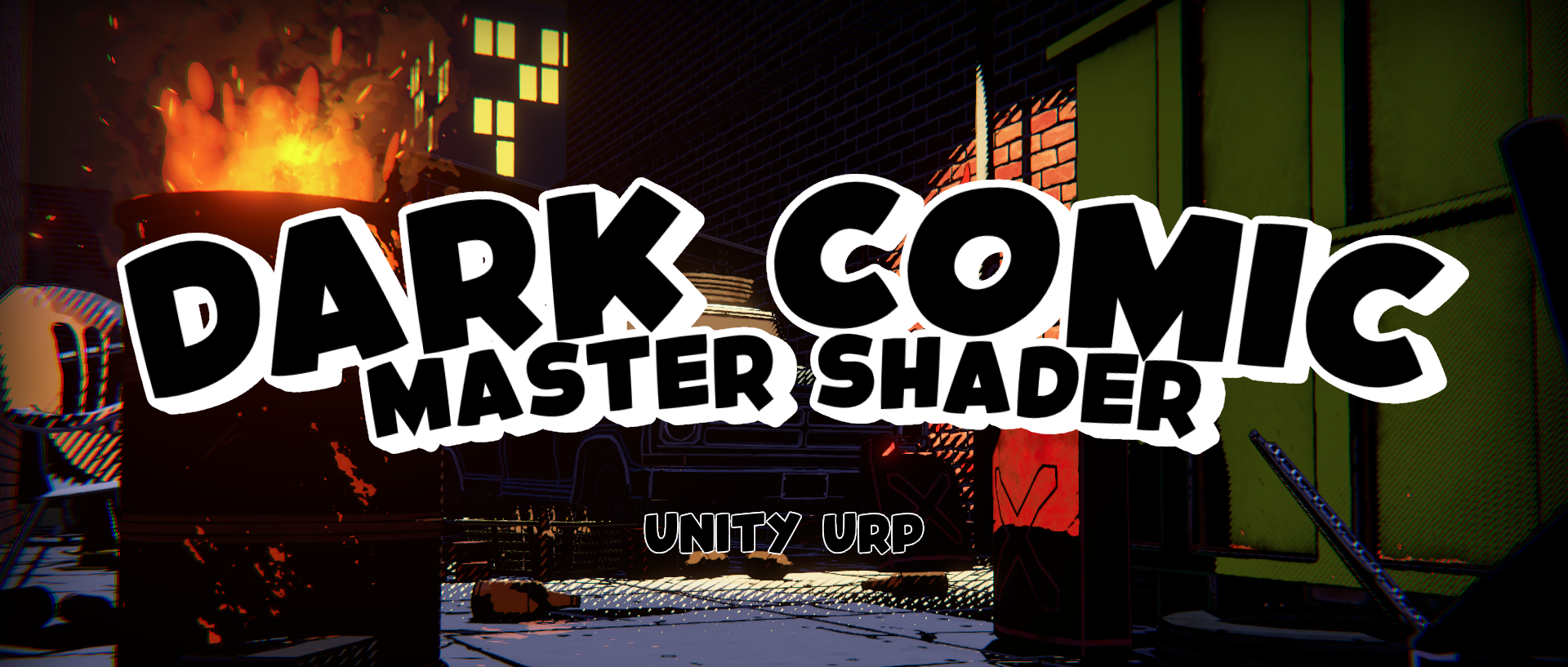 Dark Comic Master Shader
A general use shader for Unity's Universal Render Pipeline, for creating games with a dark comic book aesthetic. Inspired by games like The Wolf Among Us, Darkest Dungeon, and Curse of the Dead Gods.
The models in the preview shots were created for Adios, most by me, some by UprightBlue.


Licensed under Creative Commons Attribution 4.0 - (TL:DR; you can use it however you want, including for commercial projects, but you must credit me if you do)

Requirements:
Universal Render Pipeline
Shader Graph Markdown is required for the material editor to look correct, but the shader will still work without it.

Known Issues:

Does not support Screen Space Shadows.
Doesn't play nice with baked lighting - it makes some of the effects necessary to pull off the lighting tricks really hard.

Does however support a single baked directional light in shadowmask mode. All other lights need to be realtime.

Features:

Blend Modes:

All the usual suspects - opaque, alpha cutoff, transparent
Transparent preserves specular, for making windows
Refraction support!

Sharpened line art mask

Stays sharp at a distance, without aliasing

Paint masking

Mask Channel B controls where paint colors are applied, making model recoloring easy.

Separate lighting controls for:

Diffuse
Specular
Reflections
Ambient

Textured lighting

Single channel, or multi-channel crosshatching
Multiple lighting texture mapping modes:

Screen-space
View Direction
Screen-Stable
World Space
Object Space

Controls for fine-tuning most aspects of lighting
Stylized reflections

Crank up the strength edge-on views for edge highlights

View aligned rim light

Makes light wrap around object edges when facing the light, creating a rim lit effect


Creating Lighting Textures:
There are a few important settings that you should set up on your textures used for lighting (see the example textures download).

sRGB Disabled
Compression: None
Download
Click download now to get access to the following files:
Comments
Log in with itch.io to leave a comment.
Looks great! Shall have to check this out. :D
Oh my dog it looks so gorgeous OwO